Easter's From Days Gone By
Hey Sissy,
I don't remember getting the "Easter D.K.", but I guess that was my payback for "The Bladder" incident.
You brought up old Easter's so had to pull out the Easter collage.
First of course is the cutest picture. With the exception of Mom putting me in pink yet again!. Got to love the glubs and purse though.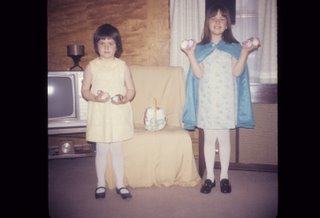 Easter at Nana's circa 1970ish. Had to pull out the "cape picture". I was stylin'. This was the stage when Mom let me have "girl hair" and Steph got stuck with the "boy hair haircut". Probably why she looks miserable. Plus, I had the cape. :)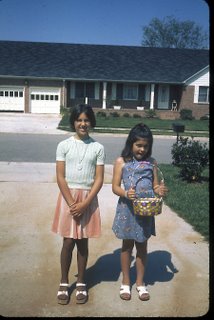 Here is Easter in Va Beach.
My first pair of platform sandals.
My first bra too. I felt so grown up.
Too bad I had the bod of a 12 year old boy.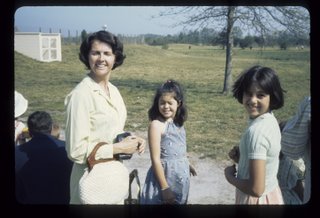 Here is my attempt at the "flip the head and give a model pose". Must have been a bright day since we are all at "half-mast" squinting at the camera. We were at an Easter Eg hunt at the golf course. I being the mature teenager refused to take place and stood with the adults.
Mom, nice Betty Ford hair.
Love to all, Shelly